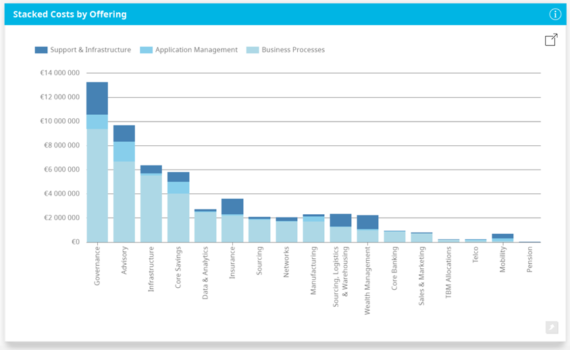 Category:cost,EA,Services
Many organisations struggle to provide just a simple transparency to cost of IT. Just reflect a little over questions like:
What is the border of IT? (if IT is being used outside of the IT department, which is likely what happens most places) – then what share is the bill of IT?
Where does the cost of IT stop, and when is it cost of another department, cost of another project or cost that we don't calculate?
What does cost mean to talk 'bill of IT' when we pay upfront, but depreciate over many years?
What about digitalisation and disruption catalysed by new IT and technologies – where does this fit into the 'bill of IT'?
These questions are all relevant and easily solved when properly addressed. We have chosen to work with TBM Framework (Technology Business Model) as it provides a standard approach to the standardisation of IT cost. The TBM concept is not new; Large accounting companies worked with the practice years before the TBM Council started, but the standardisation, the scale and the maturity of digital platforms offering the bill of IT is ramping up.
The TBM perspectives of the cost of IT provides a clear view on IT spend, and it offers a model to get transparency to unit cost and cost drivers, consumption and performance –
thereby helping CIOs, CTOs and CFOs to get aligned views of where to cut cost and where to invest more. With TBM we can help you to get full cost transparency. We advise that TBM is a service we can provide to make better decisions on IT spend and cost take-out.
Over the last years TBM has become almost a cross-standard to the taxonomy of how to deal with this. There are hundreds of organisations that now move into the three-layered structure of the TBM to get a comparable measure of the bill of IT.
What is the process of the TBM when implemented?
The TBM offers an annual cycle where IT Spend is aggregated from managed architecture meta-data, stripped into pools, and aggregated with the IT landscape as systems and services, before aggregated to business capabilities or Business Units.
We typically advocate to master the meta-data not just to crunch numbers without clear ownership. It typically implies TBM to be solved by finance people and enterprise architects together. The integrations between an information management and a financial system like SAP or similar is required. The information management will manage the collaboration with end-users, IT managers, service managers helping to get meta-data correct. Then the SAP or similar financial system will provide the cost centers, the daily bookings, the different accounts. However, if no solution is in place, bookings often follow financial account numbers, where as the mapping to IT is typically done within the architecture system.
Once a solution is configured and set alive, the budget cycle will start as an ongoing process, relying on the master data from the information management system, typically, it is based on last year's consumption providing input to the budgets and forecast numbers. The TBM is the model or taxonomy of this data crunching.
What is the basic concept of TBM?
Irrespective of the digital platform, the bill of IT is simply structured into three layers, like almost three different architecture layers:
Business layer: To describe the business capabilities and value chain of the technology supported IT spend. This should provide an enterprise perspective of the business and future cost perspective. The logical grouping and allocation of cost should be mapped to business applications or business initiatives – using the language of the business.
IT Ops layer: To describe IT products and IT towers of IT assets which is technology groupings of units and unit cost within functions. As evolving the solution, then also IT Dev as part of the layer.
Financial layer: Describing services procured in some currency, by terms, depreciations, cost, to understand cash versus cost perspectives of the agreed bills.
The benefit of the TBM model is that it translates between the layers. Solutions typically can provide the what-drives-what view between the different perspectives, typically build on some degree of allocations or apportions, handshakes and cost agreement splits. However, without the assumptions and structures of TBM, no-one will be able to communicate clearly what the cost of a project or a service really is.
How to get started with TBM?
If you are interested in getting a clear view of the Bill of IT, this is something that is hard to solve without technology and advice. Try to outline the end process; then start with the  information management to establish the digital governance. We have seen too many project implementations that suffer from not aligning the governance early enough, creating poor data and too restrictive assumptions. This typically happens when financial tools are introduced without focus on digital governance and data quality. So to succeed you need to form a project charter with enterprise architecture and financial managers involved. A transparent view of IT should include the above layers:
If you are interested in knowing more about TBM and cost models, please seek advice on how to implement this on a modern digital platform.
We help align long-term planning with short-term planning, which is an ongoing process – and a digital process of information management. Long-live the digital planning. If you have questions, please make contact. We are a consulting house with senior profiles and business solutions; we provide deep expertise in digital planning, digital governance and process automation.
We power your digital mood!