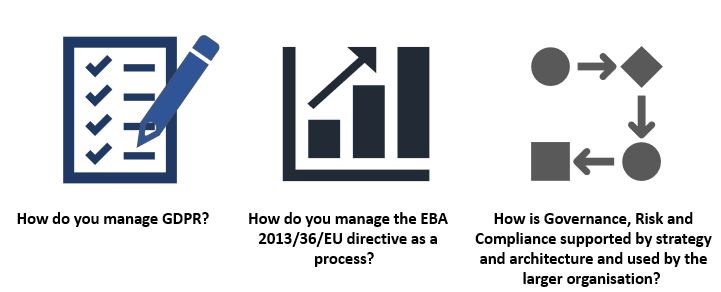 We help companies to master their meta-data improve their data management. We believe that GRC-tasks (governance, risk and compliance)  are best solved by the information modelling and business logic layer provided by the strategy and architecture solutions that support your company.  Today companies must meet an ever-increasing amount of regulations, directives and recommendations in order to be industry compliant and meet customer demands. This leads to a higher need of help in terms of controlling, having overview of information flows, and secure data management. 
Staun & Stender provides an enterprise solution to manage all your compliance and reporting, such as GDPR, ISO, EBA 2013/36/EU. You may add to this list, as our solution is flexible and built for adaptation to new regulations!
With focus on digital governance, we provide the advisory to lead the information management supporting the new requirements.   By mapping out your data and information flows, we will be able to apply our solutions tailored to your needs.
Your data flows will be compliant to current regulations and will be easily configured to future demands, thereby ensuring security, privacy and control. Digital interaction using smart analytics and digital modelling is defined in our DNA. We provide advisory services and solutions built on leading technologies and a new consulting approach where we support you through your entire transformational journey.
We are dedicated to help you improve your strategy execution of different planning disciplines such as resource planning, market and value forecasting and next generation of EA (Enterprise Architecture).