We care for your data! 
With increasing digitization at the workplace, the higher det need for data care is. Staun & Stender provide a range of services including hosting, web security in the cloud and what we see as healthcare solutions for your data such as consultations and software that increases the life span of your data.  Besides those more tangible services, we offer guidance and consultancy services within data handling, privacy securing accounts, hardware and devices.  
Regardless of what stage your business is at, you might experience questions like:
Do we have a backup and the necessary protocols, if there is e.g. a data breach or systems are hacked?
How do we ensure high data care?
Are our physical and virtual environment properly maintained?
Who is responsible for data maintenance and how is it handled?
Are our current protocols, rules and policies supporting instead of hindering work? 

With expertise in data maintenance and care, we provide in depth analysis and provides you a supporting structure to care more for your data: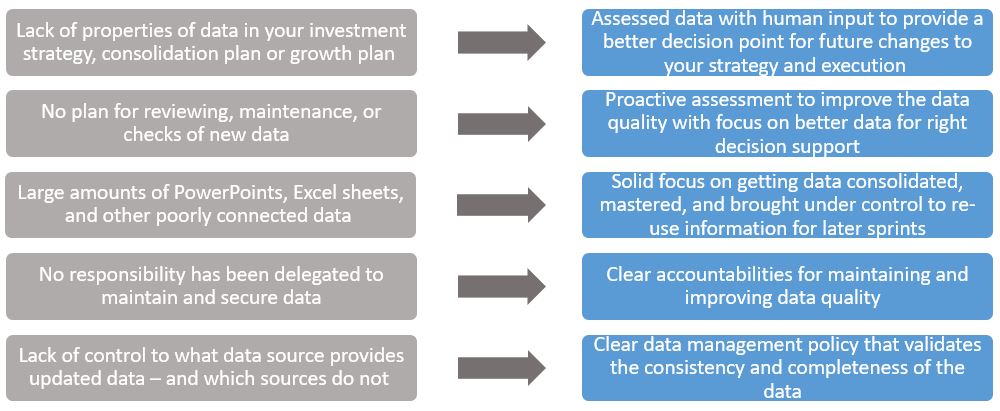 "Without a systematic way to start and keep data clean, bad data will happen." 
– Donato Diorio 
Staun & Stender often see companies struggling to roll out data security protocols and proper data care, physically as well as virtually, resulting in misunderstood and frustrated employees. Companies must prepare well before updating, reviewing and maintaining data, as it often means downtown or degrading performance for a period, e.g. on servers. 
By engaging through workshops and meetings with your company, we will analyse your current data policies, standards for data care and security to identify needs and pain points to lift data care. Thereby, tailoring the service exactly to your needs. We will enable a better security system, delegation of responsibility and data maintenance, virtual and physical. We will help communicate it throughout the organisation so that employees feel heard and understands the policies.  
"Errors using inadequate data are much less than those using no data at all."
– Charles Babbage