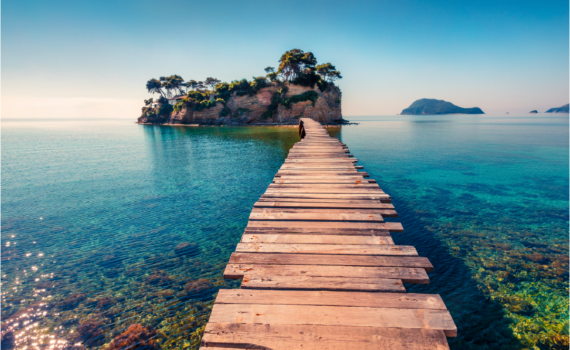 Category:digital transformation,enterprise architecture,governance
Enterprise Architecture and Digital Design Digital, what is it?
Likely you will find as many answers as you will find people to ask, unfortunately, that is so. Maybe because the discipline is relatively "young", or maybe as suggested by Martin v.d. Berg because practitioners and researchers put different meaning into the term; but likely also because it is seen as "supporting" rather than a "line" activity so the term "decision support" associates with it. Clearly, there are more interpretations to what it is.
If you smell the words, "Enterprise" and "Architecture", you will likely ask yourself, what is an "enterprise"? and what is an enterprise architecture then? The term somehow makes it more theoretic, at the risk of sinking like captain Carlsen on his SS Enterprise, which in fact was his enterprise, a ship. In most cases, we can replace the word "enterprise" with "your entire business" or "your organisation with customers and market", even though we would argue an enterprise could be a business unit or simply the entire or a subset of the business. In any case, business overall with an end-to-end perspective. "Architecture" on the other hand is about structure, how things are connected, what they are composed of, how they are used, how they look and are perceived. We often talk about good or bad architecture based on our experience, durability and interaction. In any case, everyone has a saying of this.
James Lapalme previously has argued, that Enterprise Architecture (EA) could be seen as one of three schools, either the Enterprise integrating, Enterprise IT architecting or Enterprise ecological adaption, where this post takes the proposition to put emphasize on the strategy to execution, marked more blue than the others; see Fig.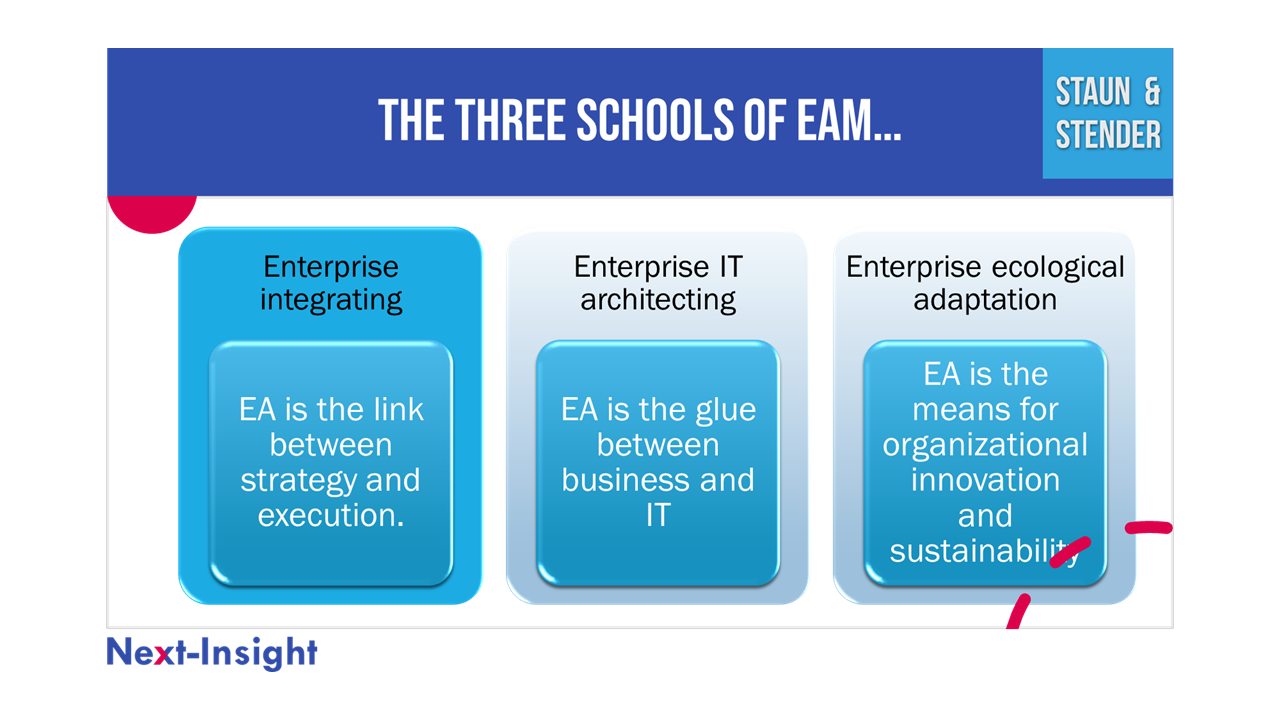 Enterprise Architecture is often expressed along-side strategy. That is, you may be manager for strategy & enterprise architecture as a combined title. It does give a clue, that enterprise architecture is about strategic thinking, about decision support with a focus end-to-end.
Enterprise architecture (EA) is a discipline for proactively and holistically leading enterprise responses to disruptive forces by identifying and analysing the execution of change toward desired business vision and outcomes.
With such a definition, EA is the authority to lead enterprise responses by working with external disruptive forces, disruptive? This clearly brings EA into the strategic space working with future solutions to achieve vision and outcomes, if need be also with breaking structures and processes or even acquiring new offerings.
At the core, EA is about the bridging between where we currently are, and the future to achieve desired business vision and outcomes. Then this is the tricky stuff, how to help an organisation to transition successfully into the future? This is what EA practitioners refer to as transition architectures, small pieces of planning to provide strategy-to-execution. Often EA practitioners then put actions into roadmaps, so roadmaps are key for making influence more actionable.
Darwin put it slightly different in a different context with "survival of the fittest", EA is about your "enterprise" survival, what planning do we collectively need to do to be "fittest" and succeed in the market. It is less about doing it, but to inform and encourage management to stay on-course using an enterprise perspective. With reference to J. Ross, we often refer to this as "digital design" (as opposed to many small solutions with individual designs), some would refer to this as enterprise design.
EA is decision-support and enterprise design; based on information and data (not only data). The more we can digitalise the creation of information from data, the closer we get to the core of EA, what to do with it. While Operations focus on today's services to customers, EA is planning with the perspective of what services do we need in the future, and how to transform the organisation to make that happen. Strategy is sometimes about pace (do more, move faster), sometimes about the unforeseen changes (new competitor, disruptive forces) where market changes force a set of decisions to be made quickly to succeed in the future.
How to make such decisions? That is what EA is all about with frequent updates, collaboration, and enterprise governance – we talk about it as iterative and integrated as it connects tools and integrates business end-to-end. For IT and CI items it integrates with CMDB, around financials it integrates with Finance, and so on. EA is often staffed with senior people as it is a broad role that connects stuff from front-end to back-end of the organisation. It is about long-term business change enabled by collaboration and planning to deal with pace and disruptive forces. Building organisations around EA provides help you to achieve corporate agility to adapt faster to new external forces.
To staff a team to succeed with EA, you need to have more skills represented, see related blog. Finally, working with architecture services, please be aware that there are more architectural practices, please see picture.
Architecture roles – what roles exist?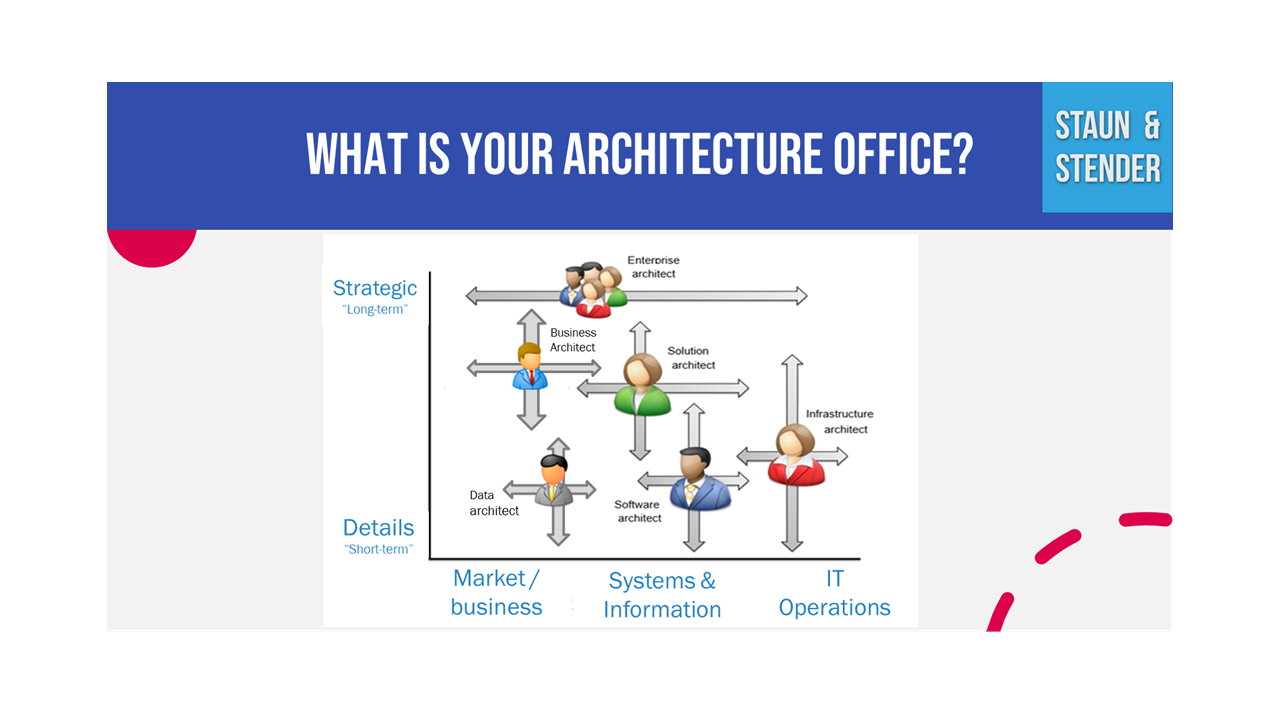 The following drawing is a simple representation of typical architecture roles, where the Enterprise Architect is the broadest role. Architecture is more than one discipline: To manage detail is different from the enterprise perspective.  The various architecture roles are related, yet very different in skillsets required and target delivery.
The Infrastructure Architect has an important role in keeping IT Operations in mint condition – often tightly coupled to the IT Service Management (ITSM).
The Software Architect has a different role which puts focus on the development of an application that solves stakeholder needs. Such work must be detailed meeting all requirements through properly design, development, documentation, and testing.
The Solution Architect is often linked to project architecture with a focus on how projects get scoped to delivery with a perspective to make a design that is valid post project closure.
The Business Architect has a slightly different skillset – more focused on market and business analysis. This is very often connected to business management, business processes and the strategy development of a business area or future revenue stream.
The Data Architect has a more detailed focus on data management and bringing fresh data between systems to support information and business insights.
The Enterprise Architect seems to do somehow a little of all of that with a perspective to look more end-to-end, secure alignment to the overall corporate strategy and direction, closing the gap between why and how. Focus is often on knowledge sharing, collaboration, planning and compliance to ensure best patterns are selected and re-used towards strategy fulfilment.
We are in the business of helping you to provide successful business change to execute your strategy – reach out if you need advice how to build you architecture office.