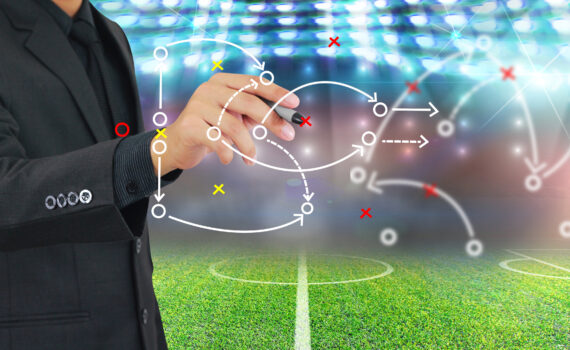 Category:
Uncategorized
We all want a place in the digital market, we all have strategies and discussions of how to win the battle. However, as part of this dialog, we often see different levels of abstraction to words such as 'digital', 'AI', 'transformation'… We may point to the definition of  'digital transformation' and 'digitalisation', however, in this article, we rather structure a few of the terms to provide a more transparent dialog to what does it mean to have a place in the digital market.
The two terms  'digital transformation' and 'digitalisation' strictly are different although they are  both part of the digital agenda. Where the digital transformation at the heart is about changing form and paradigm, digitalisation is about optimizing while keeping the business process paradigm. So to have better discussions about internal or external forces we advocate to structure the strategic dialogue using. At the center around customer journeys, we see the inner and outer game. Games can then be dissolved into lower levels such as themes and strategic elements.
With a decomposition of the strategy, we also start to have a different dialog with a common vocabulary and some apple-to-apple discussions. It allows us to have a much more meaningful conversations to what does it mean to become 'customer centric' or make 'a successful disruptive customer journey'. And as we start to move into a better understanding of the strategic themes and outcomes, we also obtain:
to structure the dialog so we can compare apple-to-apple in the discussions and needs of using words like disruption, digital, etc.
and second, to be able to break down the dialog to another level, where we can support the behavioral change of the strategy execution, and finally
start to understand what causes what, and how do plan to execute the strategy.
So how to make a strategy successful? Of course, the content is part of it, which might be assisted by better digital planning or Digital Twins; however, even without the bullet proof planning, the strategy still needs to leave the glossy PowerPoint and become actionable for more people! A successful strategy cannot survive successfully with high-level statements such as "we need more levers", "digital customer satisfaction", "larger on business value", etc. For two reasons, it doesn't answer the question of how and it doesn't make it actionable for anyone within the organization. Enterprise architecture is largely the discipline to execute the strategy by encouraging more people to do what is actionable for them; one may argue it is less about the strategy, and more about getting to the point, where people can contribute to the strategy. This is how you make sustainable change.
To make a strategy executable, we need to decompose it into Games, themes and strategic elements, and then further into the 'daily behavior'. If things become part of daily behavior, we start collectively to move. In other words, in order to succeed with the strategy execution, we need the decomposition that relates to daily behavior.
The two games represent the Outer Game and the Inner Game of an organization. These terms are re-used from leadership schools. These two games represent two different perspectives that will supplement or compete. The Outer Games is by definition the external perspective of 'what is possible'. The Inner Game has a focus on the existing organization and competencies, hence 'what can we do better'.
Digital Transformation by its definition is part of the Outer Game – how to design the new business model. The digitization is by its definition much closer to the Inner Game of how to do things more efficient – without changing our fundamental customer base, culture or anything touchy…
Now, the two games are related like strategy to culture, like Yin to Yang, like innovation to operations. They cannot live without each other, but they also represent opposite purposes. The purpose of the Outer Game is to follow principles of the Porter school, how to create a future into the market. As opposed to this, the Inner Game focuses on what can we operate, what can we do better, to fit with our capacity, our skills our collective win.
Now, having the two games defined, we see at least three digital themes that need to be addressed to make a successful change. We advocate to limit the themes to not more than these three Themes:
[inventing] New Business Models
[Changing] Customer Experience
[Improving] Process Excellence
Then the digital elements are groupings within the Themes that are simpler to make actionable and behavioral. And to succeed with strategy to execution, we need to decompose into elements and make planning to support the digital transformation.
There is more research on the internet, where it is stipulated that moving forward with digital transformation, the best companies combine the [inventing] New Business Models with the Outer Game, simply to combine digital activity with strong leadership to turn technology into transformation then to future revenue streams. Other companies are less market focused, typically public service sector companies, which will then prioritize the Inner Game  on [Improving] Process Excellence. Unless protected by regulations, borders or legal fence, companies that are more mature will eventually outperform those that are not. So, if you want to lead the digital change, choose the Game, Theme and digital elements that meet your need.
We help to align long-term planning with short-term planning, which is an ongoing process – and a digital process of information management. Long-live the digital planning. If you have questions, please make contact. We are a consulting house with senior profiles and business solutions; we provide deep expertise in digital planning, digital governance and process automation. We power your digital mood!