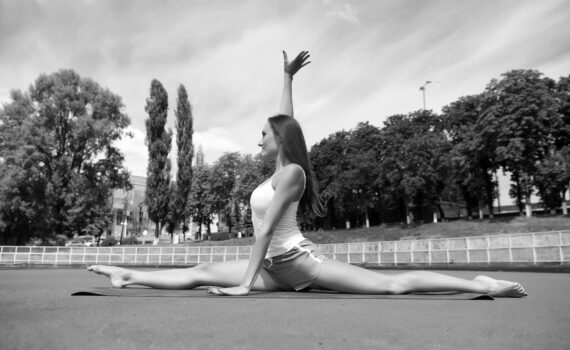 Category:EA,strategy
This week we ran into a dialog about the pace of service-orientation and its impact on processes. For those who are not aware of this term, service-orientation is the trend that allows customers to buy services rather than products with add-ons; and conceptually allow us to focus on the shift to consumerisation of subscription-based services, rather than products that may require maintenance, upgrades, add-ons etc.
To manage a successful transition into services, you need to establish a governance, see also how to establish a service portfolio. Now, as many technology companies (software as well as manufacturing companies) have a joined interest in providing a standardised set of services, they sometimes forget the dialog about "who is the customer?" – is it the customer journey of attracting new customers or the discipline to meet the service level to keep customers? Can we talk about customer-orientation or service-orientation without having the discussion of whether we want to focus on the primary operations or disrupting them?
We often say that "services" are what is delivered to an existing or future customer whereas "processes" are how you enable the services.
So in order to distinguish between the processes or new processes the level of detail required are actually not the same. In planning, less is more. In operations, we need to ensure all options are covered.
This brings us rapidly to the two simple terms that we need to balance in every service-orientation – the strategic choice between "fit" and "split" (Pascale, "Creating Organizational Advantage"):
The "fit" of processes focus on existing processes that can be digitalised and automated. This is the classic discipline of Business Process Modelling, Think of Total Quality Management, Six Sigma etc. These practices focus on making the business processes a better fit for the purpose of satisfying your customers, providing them with less pain and great services. However, as other services substitute older products and services (like subscribing to streaming services rather than buying a DVD player and DVD's), there is despite the great service, constantly a drift towards a perception of some or more pain, eventually calling for the alternative.
The "split" of processes acts like the second bimodal model, having a constant focus on providing new processes distinct from the old ones! This is the focus to make new prospects rather than satisfying the existing ones. This is the classic discipline of Business Process Management. It brings focus to emergent technologies, cloud, sourcing and disruption. The proceess will start with aquiring or establishing the market capabilities, then the services, later the processes. This practice will evaluate what current services and processes that can be turned-off to implement new services taking advantage of technology shifts and grow the company. This is typically where we see exponential growth among the services that take-off. The focus is to hit the ground running with a no-pain level and great services from day one, leaving behind the old services with pain and legacy.
Now, if we go back to the dialog of the service-orientation, pace and processes, it is evident that you need to consider "fit" and "split" as different practices, even though they may be both part of the overall umbrella of methodologies called "process optimisation" and "process thinking". The two practices use some of the same components, they just have opposite directions and pace!
If you are considering health and safety, client trials, transportation, money transfers, the "fit" is extremely important to document how you do things the right way, and you may improve your processes, optimizing them to secure health and operations. This requires many details to be aligned, documented so that every situation is covered, it may be the difference between another casualty or not. This works extremely well with the "fit" approach of process modelling, and this is also where BPM tools and process tools have their advantages. It is one may say, like Operations compared to Strategy & Architecture, where focus is on "running" rather than on "planning".
However, if you are more focused on growing and attracting new customers, develop new services, acquire new capabilities, then the "split" is extremely important to analyse in terms of what could be done differently, what are the new emerging trends we could benefit from and what could we do to re-engineer what currently seems to be a pain in our services. This requires far fewer details and a better view of the impact "what-if" we could deliver something different, attracting many more customers. This works extremely well with the "split" approach of services impact where only a high-level process detail is enough, as it is the market and services that define the playground. This is the playground of planning solutions, like Strategy and Architecture compared to Operations, focus is on "strategy and planning" rather than on "running".
So back to the pace – It doesn't take long to picture high-level processes as supporting future services, what takes longer is to secure the service is right and enable this in the market. It does take long to picture detailed low-level process diagrams of supporting your existing services. So, if you plan to head one direction, but use the toolkit from the reverse direction, you will eventually fail. So, pace and direction are both important – it is the difference between biking one way or heading with the buss the other direction! This is not just a matter of getting the processes documented – the work might not be needed, and your project is at risk, if you apply the wrong practice.
Now, if we go back to the dialog of the service-orientation, pace and processes, it is evident that you need to consider the "fit" and "split" as different practices, even though they may be both part of the overall umbrella of methodologies called "process optimisation" and "process thinking". The two practices use some of the same components, they just have opposite directions and pace.
And guess what, if you use the umbrella of "process optimisation" and "process thinking" – but apply only the "fit" perspective, you may run fast into the challenge of attracting management attention, as they often have a hard time understanding the problems you address by going deeper and deeper into details that are not relevant to address for the more business-led community with focus on attracting more revenue. The "fit" process community has been dense on methods and specifications and have spent lots of time arguing like a religion of how processes should be drawn, documented and shared, however, the "split" community has had a hard time finding interest, may even be called superficial, as they need less details to plan the future.
So one challenge that we often see in both practices is the talk about "customers" – but where one has attention to attracting some who are not customers, the other practice focus on existing customers not to leave the pen. And this goes also for services. The set of services are different if you want to attract new customers, as opposed to keeping existing customers. The "split" community will typically use an "outside-in" approach in getting attention and future, whereas the "fit" community is more focused on "did you like our service today?" (Picture below for reference).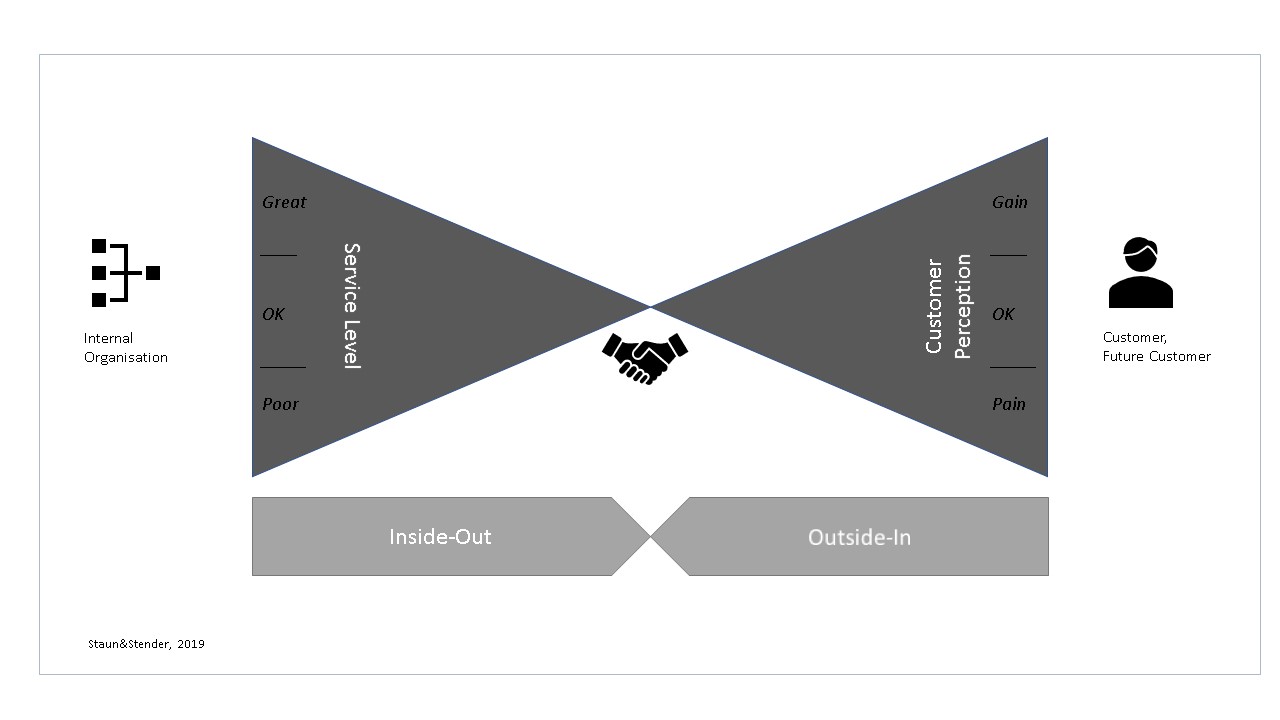 Services in a competitive market will constantly have attention to the Customer Perception e.i. does he/she feel a gain by acquiring the new service whereas the organisation will constantly be focusing on delivering to a high service level and quality. These two factors are both to be considered through the lifecycle of a service:
The "Service Level" is an "inside-out" measure of your service performance, measured typically in monthly statistics on a scale from poor service to great service on a scale from 1 to 3, or a percentage of service level reached for existing customers. This will surface if you as a customer is getting the expected service ("ok"), or less ("frustrated") or exceeding ("faith").
The "Customer Perception" is typically an "outside-in" measure of your customer's or future customers perception, measured typically in customers coming or leaving on a scale from pain to gain, where gain is the crowding effect of a good new service, whereas the pain represents a kind of despair, starting to scout for competitive services.
With the outside-in perspective, you take the strategic perspective with focus on incumbent players and services, which you might decide to invest in yourself. With the inside-out perspective, you focus on your current processes to optimise your service delivery for your customers. The art of the impossible is to balance these two practices, as to decide pace and direction.
Where in the Inside-out perspective, the weather is clear sunshine, as opposed to the future, where strategy also has to operate with current knowledge to tomorrows challenge. This is where the constant planning and scenario planning is key to enable corporate agility.
For instance, we currently see a shift to electric cars, and for a decade we have seen Tesla growing from zero to a leading (yet still small) player, unable to meet the demands, however, the buyers are despite long waiting lists more likely to say "nice" things in customer perception than traditional car producer's customers. Tesla has managed to be a step forward in the outside-in perspective, however, the larger car manufacturers may easily adopt and adapt, and then comes a period where customers will focus on operations stability – and without a focus to the inside-out, even the most promising new product and service will fail.
We typically see a customer shift to new services that are cheaper and easier to consume, such as music as a service, car as a service, transport as a service – but for all of these new services, there is the caveat, that if the operations do not scale and meet operational excellence, they will run dry. And the opposite is also valid, without a constant scouting that takes advantage of new service models with emergent technologies, the operations will run dry for customers.
If you want to start a service-orientation of your business, please to do hesitate to make contact.
You may contact us for our solution, next-insight, to read more. We help to align long-term planning with short-term planning, which is an ongoing architectural process – and a digital process of information management. Long-live the digital planning. If you have questions, please make contact. We are a consulting house with senior profiles and business solutions; we provide deep expertise in digital planning, digital governance and process automation. We power your digital mood!